RESUME AT THE POINT OF INTERRUPTION
Shortly after graduating from UC San Diego's Visual Arts MFA program in 2020, I received a phone call from Enjoli Moon (Afrikana Film Festival) about an unnamed opportunity. It was all very hush hush, there was no information about what anything would entail, so there was not really much excited on my end. Enjoli asked me to send my CV, a selection of videos works, and a proposal of my biggest dream work as soon as possible. I did.
A couple months passed and Enjoli was on the line again. She told me that the ICA had been invited to apply for a big fellowship and that the institution had won it, following it up with a congratulations to me for being the artist selected to receive the award. I didn't understand the weight of what was happening as the name of the award wasn't disclosed but that there would be a public announcement in a week or so.
In partnership with the Institute for Contemporary at Virginia Commonwealth University, I had won the
2020 Ellsworth Kelly Award
. When the announcement was made, I was in a state of shock. It was so unexpected that I kept googling the award like it was some kind of mistake. Months later, everything went into effect. My proposal had something to do with using motion-capture technology to think about the history of surveillance and its connections to the Black body, specifically in basketball. I had been reading Simone Browne's
Dark Matters: On the Surveillance of Blackness
, and I had always refered back to Kevin Young's
The Grey Album: On the Blackness of Blackness
, but COVID-19 hit and impacted my family directly.
My thoughts about the concept and works I was developing expanded to improvisation. As many families were and still are devastated by the virus, I wanted to focus on how we respond to interruptions in our lives, if we have the privilege to do so. Thus,
Resume at the Point of Interruption
, my first major solo exhibition encapsulates my life's journey through text, video, collage, sculpture, and documentary.
Exhibition documentation courtesy of the Institute for Contemporary Art at Virginia Commonwealth University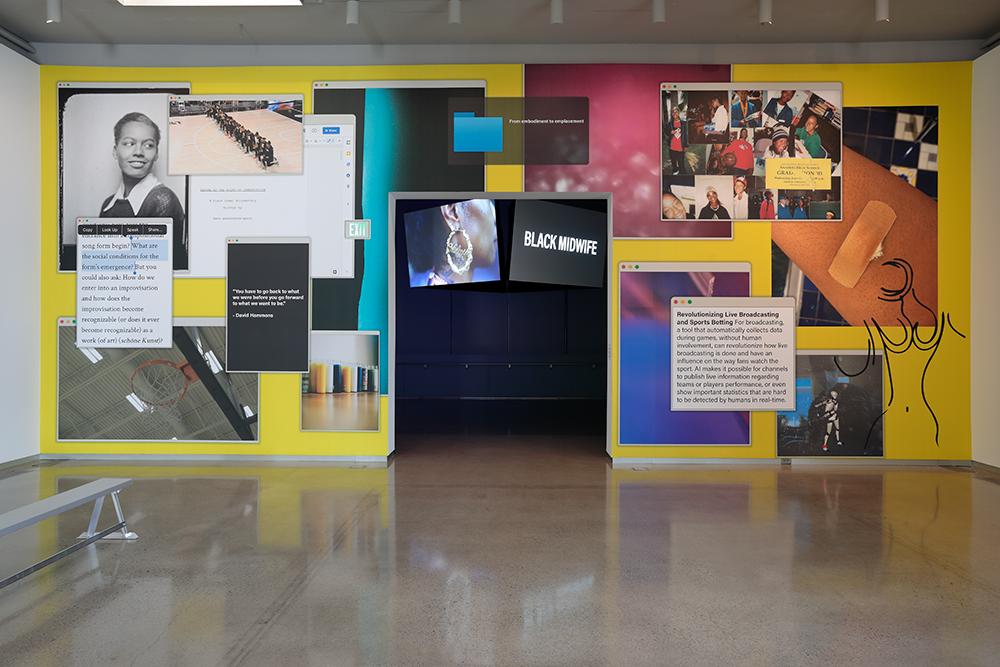 Institute for Contemporary Art at Virginia Commonwealth University
September 9, 2022 - January 8, 2023

Lens-based artist dana washington-queen uses writing and video-making as an inquiry into freedom and escape. What are freedom's possibilities? Where can it be found; what does it feel like? These questions, among others, animate the video installations, collages, and sculptures that constitute Resume at the Point of Interruption.

The title of this exhibition is taken from the National Basketball Association rulebook, section XIV, which stipulates that officials can suspend a game for unusual circumstances. The game must then resume where the basketball was at the point of interruption. washington-queen, who grew up playing sports, situates the iconography of basketball in histories both deep and personal to see how the laboring, spectacularized, and surveilled Black body functions for different gazes—and performs minor, fugitive, and creative acts of freedom at the same time.

washington-queen's text "The Black Noetic" (on view here) is the conceptual springboard for all of the presented works. This text was inspired in part by poet Kevin Young's statement that "the fabric of black life has often meant its very fabrication, making a way out of no way, and making it up as you go along." Ultimately, the exhibition is an experimental portrait of improvisatory Black life, a moving portrait that traces a continuum of interruption, suspension, and possible recovery.

Resume at the Point of Interruption was curated by Enjoli Moon.

This exhibition is supported by the Ellsworth Kelly Award, made possible by the Ellsworth Kelly Foundation and the Foundation for Contemporary Arts.

Exhibition text written by Ania Szremski.